Caipirinha Cocktail: The National Drink of Brazil +Caipirinha - Cachaça Refazenda +Cachaça Reserva 51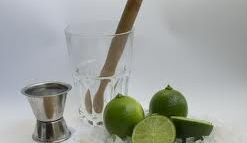 Caipirinha gives
Cachaca
the popularity it enjoys today and also its transformation from a poor's drink to one of the most cherished alcoholic drinks in the world today.
So, if you do find yourself on the beach of Rio, kindly ask a bartender to make you a Caipirinha from one of over 4,000 brands of Cachaca
Rum
locally available.
Cultural Caipirinha Cocktail Recipes
Methodology:
Glass: Rock
Method: Muddling and Pressing
Ingredients:
Cachaca - 60ml
Corona Lime - 1 whole piece (very juicy lime)
Sugarcane syrup - 20ml (crude sugar)
Procedure: Combine lime wedges, sugarcane syrup in a rock glass and muddle, add ice, Cachaca and stir.
Variation: Batidas (addition of fruit, juice, puree and/or liqueur)